Read Write Inc
Phonics at Merstham Primary School
Intent
At Merstham Primary School, we value reading as a key life skill, and are dedicated to enabling our pupils to become lifelong readers. We acknowledge that children need to be taught the key skills in segmenting and blending to be equipped with the knowledge to be able to complete the phonics check at the end of year 1. We also value and encourage the pupils to read for enjoyment and recognise that this starts with the foundations of acquiring letter sounds, segmenting and blending skills.
Children who read regularly have the tools to become independent and lifelong learners. As well as this, reading improves concentration and teaches children about the world around them.
We achieve this together through:
- Our Read Write Inc Scheme- children are taught the essential skills needed for reading.
- Daily phonics lessons in Foundation Stage, and KS1
- Regular reading sessions with an adult to ensure the pupils are regularly practising and applying their phonics knowledge.
- The children have reading books they are encouraged to read regularly at home which match their current phonics level.
- Giving the children access to a wide range of books at school and at home
At Merstham Primary School we use Read Write Inc to provide the foundations of learning to ensure the development of fluent reading. Through daily, systematic and consistent high quality phonics teaching, the children learn to segment words to support their spelling ability and blend sounds to read words. Read Write Inc allows the children to develop strong phonetic awareness and effective blending and decoding skills.
What is Read Write Inc?
Read Write Inc (RWInc) is a phonics complete literacy programme which helps all children learn to read fluently and at speed so they can focus on developing their skills in comprehension, vocabulary and spelling. The programme is designed for children aged 4-7. However, at Merstham Primary School we begin the programme in Nursery and will continue teaching RWI to children beyond the age of 7 if they still need support in their reading through targeted phonics interventions and support.
Implementation
We begin in Reception by teaching set 1 sounds. Once the children have learnt the first 5 sounds 'm, a s, d, t' they blend using the sounds they know. During lessons the children are taught to hear the sounds and blend them together to make a word. We begin with blending oral sounds, reading the letters and then blending them together to read a word. In Read Write Inc phonics the individual sounds are called 'speed sounds' – because we want your child to read them effortlessly. Set 1 sounds are the initial letter sounds. They are taught in the following order.
m, a, s, d, t, i, n, p, g, o, c, k, u, b, f, e, l, h, sh, r, j, v, y, w, th, z, ch, qu, x, ng, nk
There are 12 Set 2 'speed sounds' that are made up of two or three letters which represent just one sound, e.g. ay as in play, ee as in tree and igh as in high. When children learn their Set 2 sounds they will learn: the letters that represent a speed sound e.g. ay a simple picture prompt linked to the 'speed sound' and a short phrase to say e.g. May I play?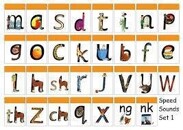 When learning their Set 3 speed sounds they will be taught that there are more ways in which the same sounds are written, e.g. ee as in tree and ea as in tea

With each new sound the children will Fred Talk a list of green words linked to the sounds. They will have the opportunity to sound out and blems words containing the new sound. E.g. p-l-ay = play. The green words are decodable words the children can use 'Fred Talk' to help sound out and blend. The children will then use Fred (in their head) to sound out and blend the word in their head and then read the word out loud.
As children build up their knowledge of sounds they are able to apply their decoding skills to any unfamiliar word may it be real or nonsense. During lessons each day children will practice their decoding skills by sounding out the letters in 'Alien words
Please see the link below for further information about the structure of our phonics lessons and order of set1, 2 and 3 sounds. https://home.oxfordowl.co.uk/reading/reading-schemes-oxford-levels/read-write-inc-phonics-guide/
Our EYFS and KS1 team at Merstham Primary School are experienced in the teaching of phonics. Training is provided to ensure that teachers have the knowledge and skills to deliver high quality systematic synthetic phonics across the school.
Impact
Through the teaching of systematic phonics, our aim is for children to become fluent readers by the end of Key Stage One. This way, children can focus on developing their fluency and comprehension as they move through the school. Attainment in reading is measured using the statutory assessments at the end of Key Stage One and Two. These results are measured against the reading attainment of children nationally. Attainment in phonics is measured by the Phonics Screening Test at the end of Year 1. However, we firmly believe that reading is the key to all learning and so the impact of our reading curriculum goes beyond the results of the statutory assessments.
Five key principles underpin the teaching in all Read Write Inc. sessions:
Purpose – know the purpose of every activity and share it with the children, so they know the one thing they should be thinking about
Participation – ensure every child participates throughout the lesson. Partnership work is fundamental to learning
Praise – ensure children are praised for effort and learning, not ability
Pace – teach at an effective pace and devote every moment to teaching and learning
Passion – be passionate about teaching so children can be engaged emotionally.
Useful links
https://home.oxfordowl.co.uk/reading/reading-schemes-oxford-levels/read-write-inc-phonics-guide/